Sydney is a thriving travel destination that sees well over 10 million tourists every year, and it's a beautiful place to visit all year 'round. There is so much to see and experience that you could easily take a long holiday and still not see all of the sights. We're going to outline the top must-see experiences and travel tips, and explain why you should consider taking a private tour below!
10 Things to See in Sydney
If you're wondering what to do in Sydney, you're in luck. There are things to see in Sydney for the whole family, and there are events and sights that are better for adults, if that's what you are looking for. Whatever you choose, you'll make memories that last a lifetime. Highlights include: 

1. Sydney Opera House 
When you think of Australia as a whole or Sydney, the Sydney Opera House is one of the main things that usually comes to mind. It's a world-heritage listing building that is as stunning on the inside as it is on the outside. You can take in a concert or show, and they have up to 40 shows every single week. If you don't want to make a night of it, you can enjoy a tour of the Opera House and eat a delicious lunch on the premises. Nonetheless, it's a place to watch the famous NYE Sydney fireworks!
2. Paddy's Markets 
For over 150 years, these vibrant markets have been a mainstay in Sydney. Paddy's Markets is the single biggest in Sydney, and boasts over 1,000 different stalls spread between the Flemington and Haymarket locations. The fun atmosphere covers the market from one end to the other, and you'll get to buy everything from small souvenirs, general fun items, bric-a-brac and food. Each location features different times, so be sure to check the one you'd like to visit. 

3. Darling Harbour 
Sydney's Darling Harbour is a very popular recreational complex adjacent to Sydney's city centre. You get to enjoy stunning views of the water, with dozens of things to do to keep you entertained and fed. You can visit the Carousel, Chinese Garden of Friendship and Teahouse, Dockside Pavilion, National Maritime Museum and more. There are also some unique attractions, such as Madame Tussaud's and the Harbourside Shopping Centre with laser tag. 

4. Bondi Beach
Arguably one of Australia's most famous beaches, Bondi Beach is a must-see. It's a hangout spot for visitors and locals alike, as well as some celebrities. The electric atmosphere combined with the plentiful swimming opportunities and gorgeous sand beach make this a perfect spot to spend the day. There are also dining and shopping opportunities galore all along the beach. This beach also makes Australia's Heritage Site list, and it's great for the entire family to enjoy.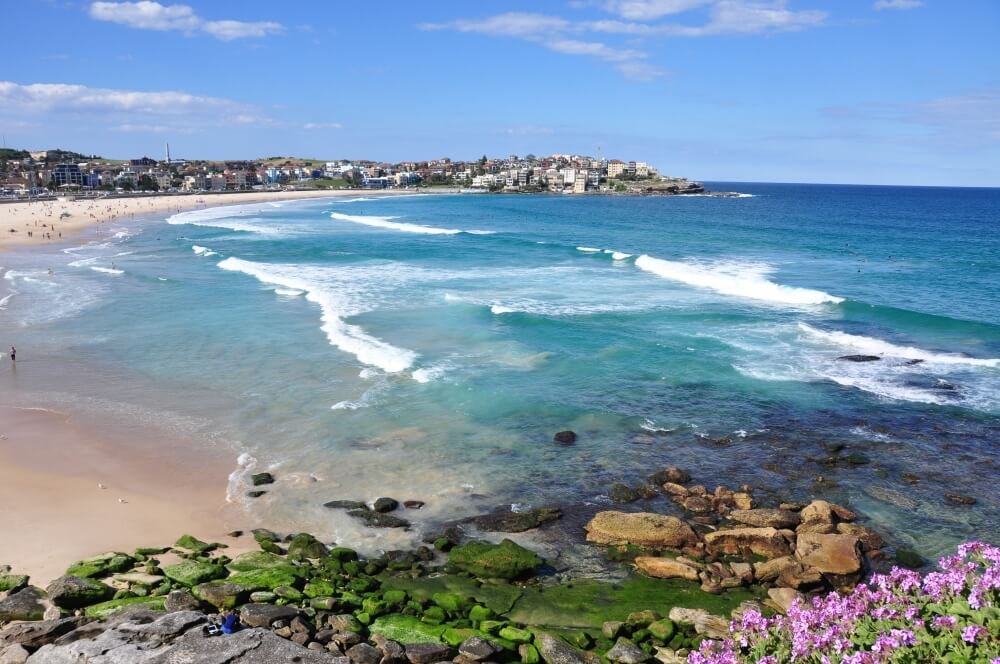 5. Circular Quay
For those who want a fancy dinner and a night out while they're in Sydney, one of the top destinations for a five-star dining experience is Circular Quay. You'll enjoy gorgeous views of the crystal-clear harbour water, and take in several gourmet dining opportunities. The Sydney Cove Oyster Bar, ARIA, Yayoi Garden and Tapavino are gourmet experiences. If you want more budget-friendly options, you can try City Extra's excellent burgers, Banh You Vietnamese Street Food or the Cruise Sydney Harbour seafood specialities.

6. Luna Park
If you want adrenaline-pumping rides, spend the afternoon at the family-friendly Luna Park. The Wild Mouse roller coaster will give you a terrifying thrill, or you can take the family to the Coney Island-inspired area of the park. This part features an old-school house of mirrors, lots of traditional retro attractions, some great sideshow games and more. There are also first-class dining experiences at the Ferris Wheel Carriage on Sundays. This so-kitsch-its-cool park is great for families of all ages and sizes. 

7. Museums 
Sydney is home to some stunning museums, and you could spend the day museum-hopping and never get bored. For history buffs, the Australian Museum offers a huge natural history collection to browse. If you want a museum that focuses on innovation, technology, design and science, the Powerhouse Museum is an excellent choice. The Hyde Park Barracks Museum is a World Heritage Site that gives a unique look back at Australia's history. 

8. Nightlife 
Sydney is home to some of the most vibrant nightlife in the world, particularly the nightlife centred around Oxford Street. Set in the heart of Sydney's gay area, Oxford Street's nightlife caters to straight, gay and mixed crowds. One of the most popular venues in the city is the Chinese Laundry and Home. Here, you can visit a few bars, feel the friendly and electric atmosphere and enjoy a night out with your friends. 

9. SCG
Sports fans can rejoice, and catch a game at the SCG. The venue hosts games almost every single weekend, all year 'round. You can watch rugby, cricket, or an AFL game. Even if you're not a die-hard sports fan, the excitement in the air is worth feeling. Also, you can buy souvenirs for your friends back home. 

10. Garigal National Park 
If you want to get back to nature, spend the day at Garigal National Park. Located in Sydney's North Shore region, this protected national park is just 20km from the CBD. The park trails are very popular for cyclists, hikers and runners. You can take in stunning scenery, a large variety of flora and fauna and explore over 100 sacred Aboriginal sites spread throughout the park.
Sydney Travel Tips
You want to stay safe and enjoy yourself the whole time you are in Sydney, and to discover the city's hidden jewels. This is why we put together several simple travel tips that you can incorporate into your next trip the New South Wales capital.

Everyone Needs an Opal
In Sydney, you will rely heavily on the public transportation system to get around. In order to use it, you need an Opal card; the key payment method for Sydney's public transportation system. This is valid on the Light Rail system, on ferries, on trains and on buses. You can load your card up with funds at a variety of locations, but you'll need to tap on and off every time you use it to avoid big charges.  

But Leave Time to Get to Destinations 
Although you'll need to take advantage of public transport, you may not always find it so reliable. The buses run every 15 minutes until you hit peak travel times, and then they switch to every 30 to 60 minutes. The ferries are more reliable, but they may experience delays as well. Walking is usually the fastest way to get to your destination. If you plan to use public transit, add at least 30 minutes to your commute time. 

Restaurants and Shops Close Early 
A lot of tourists like to eat out at later hours, but you'll have trouble finding a restaurant open past 9:30 p.m. in Sydney. You can either travel to another city or small town to eat, or you can choose to eat earlier. The same goes for local shops with most of them in Sydney's CBD closing around 7 p.m. and everything else closing around 5 p.m.
Smoke-Free Zones are a Must 
A lot of Australian cities are in the process of becoming smoke-free, and Sydney is no exception. As a rule of thumb, remember that you're not allowed to smoke anywhere in which food is served food, on public transport, in public recreation areas, in playgrounds, or in building entrances, and Pitt Street is also totally smoke-free. If you're not sure, don't be afraid to ask.
Why Use a Private Tour Company to See Sydney
While you can explore Sydney well enough on your own, a private tour can really show you where to go in Sydney, and can connect you with places that can be hidden to everyone but the locals. Most private tours of Sydney also have scheduled itineraries that ensure you have more than enough time to see everything, and stay entertained at every stop.
You'll get a front row seat to Sydney's rich history that you won't get on your own, and your tour guides can enhance your entire experience from start to finish to ensure you have a fantastic time. They can take you to Sydney's birthplace and to historic sites, as well as to iconic city locations and behind-the-scenes experiences.
Additionally, you can work with your private tour company to design a personalised tour that hits all of the spots you simply have to see, while learning about the rich history of the area. You can travel with friends, family or a group of strangers who are all excited to see all of the sites Sydney has to offer.
You also get a reasonable price that all but guarantees quality from the start of the private tour in Sydney until the end. They have hand-picked restaurants and hotels with private local guides who know and love the area. It gives you a worry-free vacation experience that lets you relax and truly get to grips with the region.
Contact Sydney Private Tours Today!
Are you ready to discover Sydney and all of the Sydney attractions that go along with booking a private tour? Maybe you have questions you'd like our staff to answer? Either way, reach out and get in touch today!