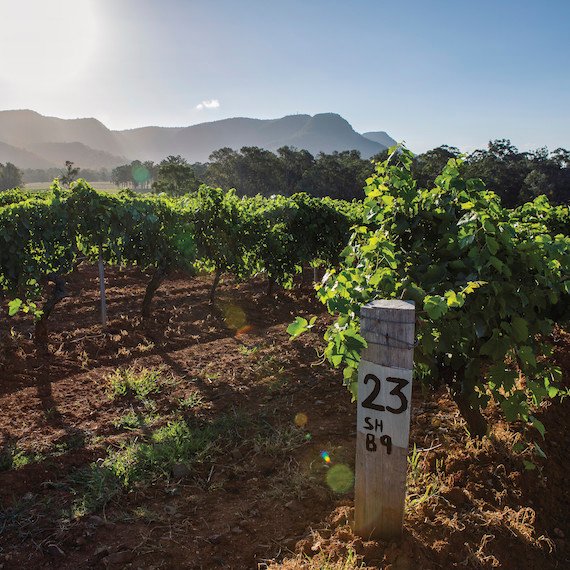 Australia is fortunate to have diverse soil types across its landscape, giving rise to unique wine varieties across the country. The Hunter Valley, two hours north of Sydney through Kuringai National Park, is no exception and the region has become renowned for its Semillon, as well as its substantial Shiraz, Chardonnay and Verdelho.
On this relaxed luxury day tour, you won't just explore the Hunter Valley, you'll indulge in it. The region is home to more than 150 wineries, and with a picturesque backdrop as well as renowned restaurants throughout the area, wine and food livers alike will revel in everything the region has to offer.
Delight in world-class wine tastings and graze amongst the vines with a gourmet Hunter Valley Cheese Platter at McLeish Estate. Enjoy lunch at one the area's stunning vineyard restaurants, followed by more time exploring the region meeting local characters and sampling wine from boutique wineries. Those wanting to stretch the legs may enjoy a visit to the Hunter Valley Gardens, or taste beverages of another kind – at one of three breweries (including the famous Matilda Bay) or distilleries. Mouth-watering local produce awaits – fruit orchards, fromageries, chocolatiers and a smokehouse are all open in the Valley.
On your return to Sydney, there may even be an opportunity to see some kangaroos in the wild – a special treat to round out a beautiful day in New South Wales.
Select from a host of local vineyards such as Audrey Wilkinson or Scarborough, for tastings matched to your preferences
Graze amongst the vines with a cheese platter and tastings at McLeish Estate
The finest local Hunter Valley produce for lunch at a vineyard restaurant
Stunning scenic drive through Kuringai National Park across the Hawkesbury River
Wine/Distillery/Beer tastings
Cheese and matched wine pairing at McLeish
Visits to local providers (optional)
Two-course lunch with beverage (beer, wine or soft drink)
Local guide providing expert commentary
Luxurious private vehicle with complimentary water
Upgrade to degustation lunch with matched wine
Include private tastings with premium range wines
Extend your tour for an overnight stay in the Hunter