Surrounded by stunning waterways and breathtaking wilderness areas, many of which are listed as World Heritage sites, Sydney is blessed with some of the best day trip destinations in the country. Take a short drive out of the city to enjoy the natural splendour of the Blue Mountains, head to one of the dozens of iconic Sydney beaches to soak up the golden sun and blue ocean, try your hand at fishing in Port Stephens, or take in all the history and ambience of this beautiful city with a tour around Sydney itself.
Whether epicurean explorations are your thing, arts and culture are what appeals most to you, nature and the outdoors are what speak to your soul, or it is surf and sand that calls to your heart – Sydney has it all and more. With so much on offer it can be hard to decide what to do with your time here, so, for a little inspiration here are some of the top day trips from Sydney.
Blue Mountains National Park
One of the most popular day trips from Sydney, the Blue Mountains are a UNESCO World Heritage that will leave you breathless with their awe-inspiring beauty. Named for the blue haze that the dense eucalyptus forests leave hanging over the park, the Blue Mountains beguile visitors with Aboriginal rock paintings, waterfalls and more than 140kms of walking trails through the 664,000 acres of unspoiled wilderness.
According to Trip Advisor, visitor favourite highlights of the Blue Mountains Day Trip include a visit to the massive rock formations known as the Three Sisters for striking photographs, a stop at the Bridal Veil Falls, and then the hair-raising journey down into Jamison Valley on the Katoomba Scenic Railway. It's an outdoor-lovers paradise with the most popular activities being hiking, horseback riding, rock climbing, abseiling and mountain biking.
Getting to the Blue Mountains is relatively easy. Simply take the M4 Motorway from the city, or catch a train from Central Station to Blackheath or Katoomba. Or you can choose the no effort option and book our Blue Mountains Private Day Trip from Sydney. On this roughly 9 hour tour, we'll take you to Echo Point to get up close and personal with the Three Sisters, tour a number of the Blue Mountains popular vistas, and include a trip to Scenic World if you like.
Hunter Valley
Located roughly two hours north of Sydney, a Hunter Valley day trip is a popular escape for Sydney residents and a favourite choice for anyone who is passionate about food and wine. One of Australia's oldest grape-growing regions, the fertile soil in this attractive valley means that it is almost as well known for its fresh produce and artisan foods as for its world-famous wines.
Once a prosperous coal-mining centre, it is located near to Barrington Tops and Wollemi National Park – both World Heritage-listed sites. For those who prefer their wilderness a little more tamed, the Hunter Valley Gardens are a horticulturists delight featuring more than 60 acres of themed gardens. The thing that draws most people to this little slice of heaven, however, is the outstanding wine though.
The region features over 150 wineries, and our private Hunter Valley Wine Tour will take you to your selection of local vineyards, allow you to enjoy some of the artisanal delights at McLeish Estate and lunch at a local vineyard restaurant. Passionate foodies can upgrade to a full degustation lunch with matched wine. And if one day isn't long enough to sample all that Hunter Valley has to offer, you can extend your day trip to an overnight stay.
Port Stephens Bay
More than double the size of Sydney Harbour and located about 200 kilometres away, Port Stephens Bay is a haven for anyone who loves anything to do with the ocean. One of the top fishing destinations in Australia, it is also home to the Great Lakes Marine Park where water sports are the name of the game.
With more than 20 pristine beaches nestled along the miles of beautiful bushy coastline, a Port Stephens day trip is all about experiencing the many delights the ocean has to offer. From kayaking and sailing or boating to surfing and snorkelling or diving – Port Stephens is a water baby's delight. And we haven't even mentioned the diverse marine life or the wonders of the many seafood restaurants you'll find!
With our private Port Stephens Dolphins tour, we're highlighting both of these. We'll board a 54ft sailing catamaran in Nelson Bay and head out across the azure water to join the bottlenose dolphins who call Port Stephens home. Once the fresh sea air has helped you work up a hearty appetite, we'll head back to shore for lunch at the Little Beach Boathouse, which is famous for their locally-harvested oysters.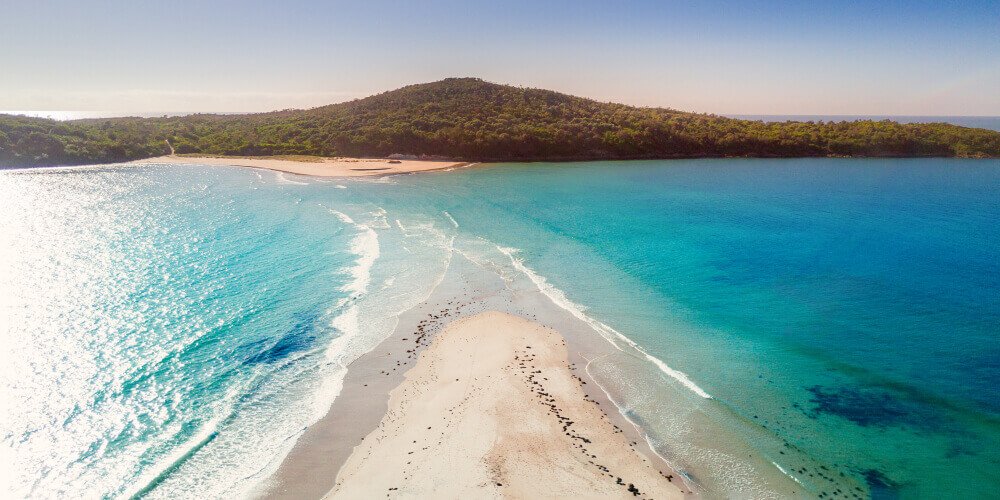 Canberra
Located outside of New South Wales, but surrounded by the state on all sides, Canberra is the national capital of Australia. Designed and built to be the seat of government in Australia in 1913, Canberra makes for a must-do day trip for anyone who would love to learn about the history and culture of Australia. Affectionately known as the Bush Capital, Canberra is a delight for nature lovers and history buffs alike.
At the heart of Canberra lies Lake Burley Griffin, named for the award-winning husband and wife team of architects who designed the whole city. Called the watery soul of Canberra by many Trip Advisor reviewers, you'll find a variety of national landmarks dotted along its shores, from the Australian War Memorial in Remembrance Park to both the Old and New Parliament Houses, and a host of other historic buildings and locations.
With our private Canberra day trip, you'll get to visit the historic town of Berrima so you can browse through the many galleries and boutique stores while sampling the divine local produce. Then we'll head into Canberra, where you can decide if you'd prefer to enjoy the cultural or the outdoor delights the capital has to offer. Lunch will be in upmarket Kingston at the Otis Dining Hall, where you can indulge in the exquisite local produce the region is really starting to become known for.
The Southern Highlands
Rated by TripAdvisor as one of the best destinations in New South Wales, the Southern Highlands is a charming region that seems frozen in time. Perhaps this is why it seems to have escaped the notice of most international travellers. Or maybe the reverse is true, and the hamlets and villages have retained their charm because they're not catering to tourists in search of the next trend.
Home to Kangaroo Valley, which is known as one of the prettiest in all Australia, the Southern Highlands is simply spell-bind. A day trip is a great way to see well known native Australian animals in their natural habitats. From wombats and platypuses to kangaroos and wallabies, the Southern Highlands are rich in wildlife that loves the rainforest-cloaked gorges and wildflowers as much as you do!
On our private Southern Highlands and Grand Pacific Drive day trip, you'll get to see where Captain James Cook and the HMS Endeavour first landed, before enjoying the captivating ocean views and world-famous Seacliff Bridge this gorgeous coastal road is known for. We'll stop in a number of quaint villages, where you can soak up the ambience, before enjoying the gourmet version of true Aussie tucker for lunch. That's a picnic of fish and chips right beside the ocean if you were wondering!
Royal National Park
Established in 1879, Royal National Park is the second oldest national park in the world. Park is one of those charming places where untamed wilderness and the ocean live side by side in perfect harmony. With a stunning coastline that features both popular surfing beaches and towering cliffs, the park is a favourite for both nature and beach lovers.
The Figure 8 rock pools are great for those who'd like to cool off after wandering the park in search of the more than 241 species of birds but don't want to brave the wild ocean for their swim. For those who prefer the water, snorkelling, surfing, whale watching and fishing are just a few of the pursuits you can indulge in.
Our private Southern Highlands day trip begins with a stop at the sleepy village of Bundeena in the Royal National Park. We'll take you to Wedding Cake Rock, where the sheer white cliff face looming over the Pacific Ocean makes for a wonderful photo opportunity. And if you'd like to enjoy a more leisurely tour of either, or both, of these destinations, then contact us to find out about extending your trip to include an overnight stay!
Falling in Love with One of the Day Trip Options?
These are just 6 of the popular day trips from Sydney, but this is nowhere near all that this iconic city has to offer to the discerning traveller. Sample a wide range of these with any of our existing private guided tours in and around Sydney and New South Wales or give us an e-mail or a call and let us help you plan how you can see the side of Sydney that you've always wanted to experience!